France is THE country for wine and Paris is probably THE city in the world where one can find the largest quantity of Wine Shops. I would recommend any of them provided that the wines appear to be stored in good conditions and that the store owners seem to be experts in wines and the shop assistants able to give good advices… not only in French… but also in English for our foreign visitors! For my Top Three Wine Shops in Paris I have selected three places which are well known by Parisian people to be a Mecca for wine lovers in Paris, places where one can be sure to find what one is looking for. They are not necessarily the cheapest but each of them offer a wide selection of bottles, including the great wines of Bordeaux, good storage conditions and skilled sales assistants able to give good advices.
Legrand Filles et Fils: the most charming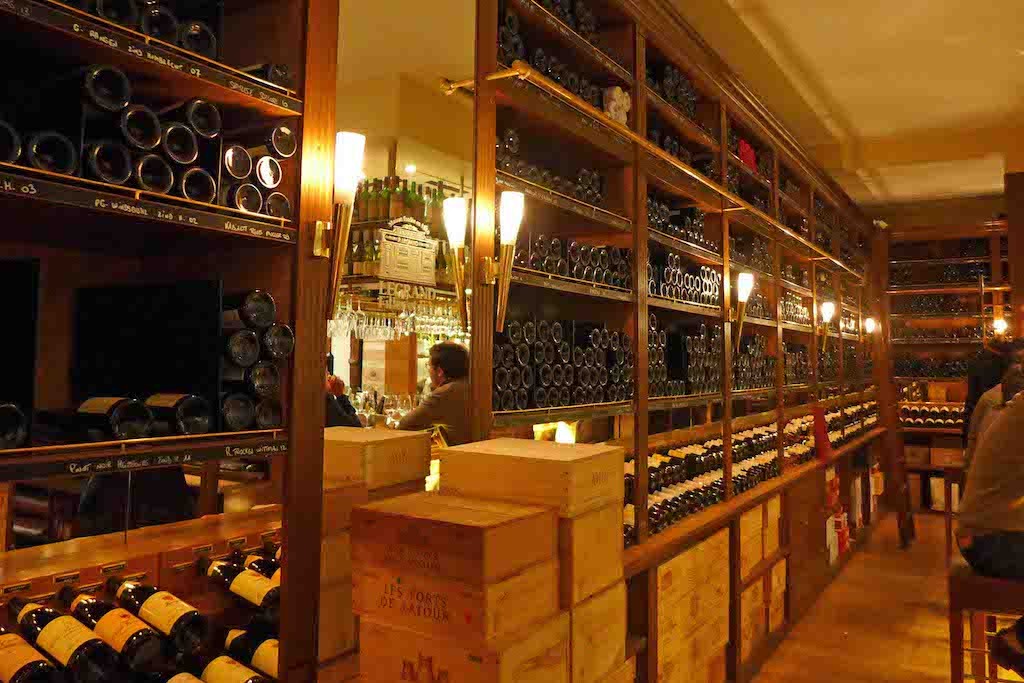 Legrand Filles et Fils is the grandfather of all Parisian wine retailers. Indeed Lucien Legrand has been the first Parisian wine merchant to get its supplies directly from the wine producing areas beginning in 1945. He is the one who started in Paris the trend for the Beaujolais. Since 2000 the Legrand house does not belong to the Legrand family any longer and it was bought in 2013 by a Japanese family.
I entered the shop using the entrance located on the rue de la Banque. The decor is charming and has kept its 'old world' look from the 1900s: wooden counters and shelves, tiled floor,… but also glass jars full of candies and fine food from the various regions of France! And of course bottles of wine everywhere, wines from Burgundy, from the Loire Valley, from the Rhône Valley,… Not to mention Champagnes, Whiskies and Portos in a second room with a spiral staircase…
And in the last room, located at the back of the store on the side of the Galerie Vivienne, the great wines of Bordeaux! This room is not only a wine cellar but also a bar and restaurant where one can taste wines in a warm and relaxed atmosphere. The wines by the glass are rather expensive but if you are a group of friends you can also choose a bottle in the Vinothèque, buy it at the same price as in the shop and enjoy it (without any corkage) with some delicatessen or cheese.
Lavinia: the widest choice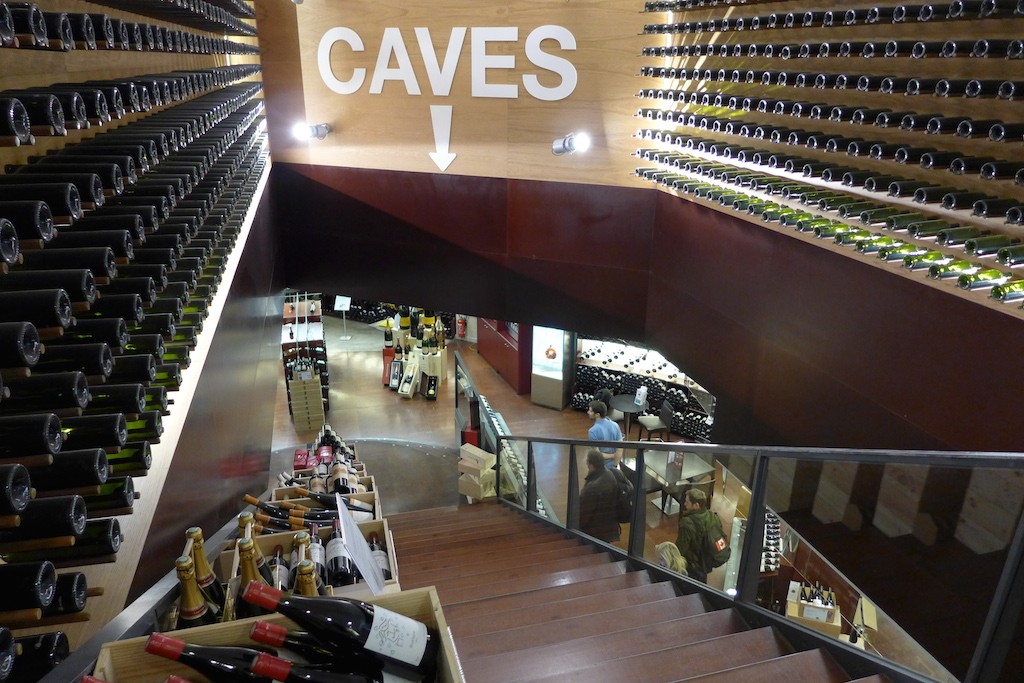 Lavinia is the biggest Wine Shop in Paris. It is centrally located between the Opéra and the Madeleine and is really worth the visit. This wine superstore stretches over three floors and its cellar, located on the basement, is really impressive by its quantity of bottles well laid-out by wine-producing region and by its very professional storage conditions. Lavinia was created in 1999 by two French men and has also opened shops in Spain, Switzerland and in the Ukraine.
Lavinia in Paris offers a choice of 6500 different wines: most of them are French of course but one can also find there a wide selection of the best wines from the whole world: Italy, Spain, South Africa, Australia, United States,… Thirty countries in total! Lavinia is really THE place to go either to buy one of the most sought-after French wines, an international wine that cannot be found anywhere else in Paris, or to discover new wine producers.
What I like there?
The discussion with the shop assistants who are all passionate: they know a lot about wines and enjoy talking about it whether you are an expert or a novice.
The various possibilities offered to discover new wines including free tastings: for instance one can taste Champagne for free almost every afternoon from 11 December 2015 till Christmas!
The wine bar and restaurant located on the first floor open until 9pm and where one can taste in a very relaxed atmosphere up to 150 wines by the glass.
La Cave du Bon Marché: the finest selection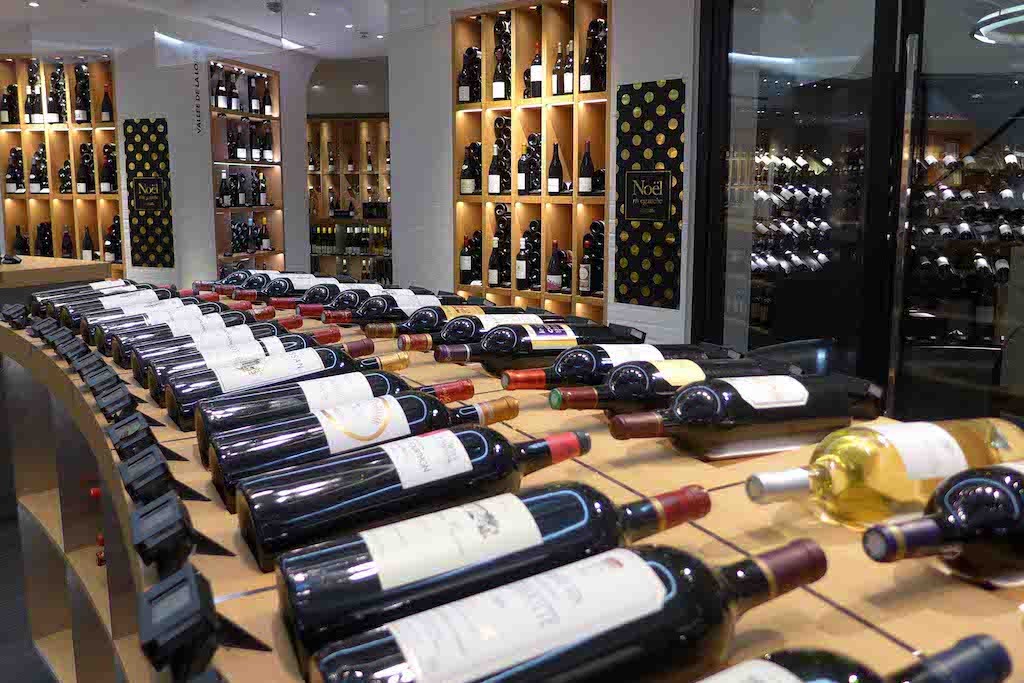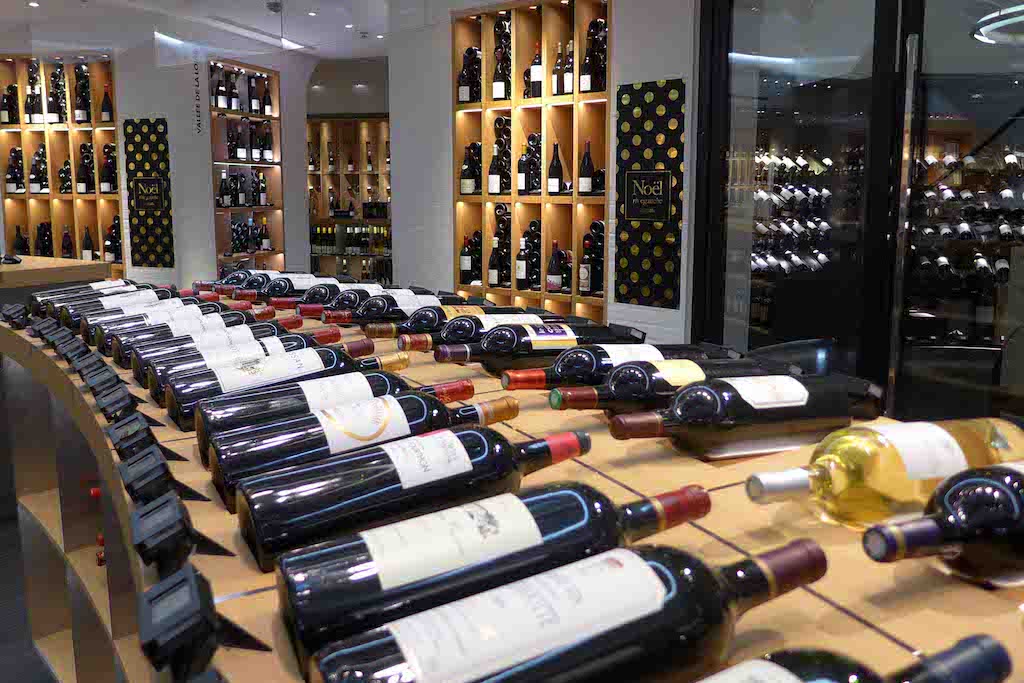 La Cave du Bon Marché is located on the basement of the Grande Epicerie de Paris in a contemporary design and offers as Lavinia very good storage conditions for wines in terms of light and temperature. Wines are laid-out by wine-producing regions, each French region offering an excellent selection with a mix of exceptional wines from Bordeaux or Burgundy and more confidential wines made by talented wine producers selected with much care.
It is very easy to find one's way among the different wines and to pick up on one's own THE bottle one is looking for as the display is really well done and the choice per label of origin not too wide. However if you are a novice or do not have a precise idea about what you are looking for, a few shop assistants who are all experts in wine and English speaking will help you make your choice depending on your tastes and your envies, but also on your budget or on the meal you are planning.
La Cave du Bon Marché is my favourite Wine Shop in Paris because I love their selection which is in my opinion the finest selection one can find in Paris: not too small, not too wide, and with a mix of well-known wines and of the best confidential producers. I have learnt a lot listening to the advices of their shop assistants about how to preserve, to serve and to taste a wine. And I have discovered there several wines which are now among my favourites! And lastly I enjoy shopping in the Grande Epicerie after having found what I was looking for in the Cave…
Another good option to buy wines at fair prices in any area of Paris is the retail chain 'Nicolas', which has been existing for almost 200 years and is the first wine retailer in France. There are about 150 Nicolas shops in Paris and you can be sure to find one nearby your accommodation! Their selection and advices are good; the price range is wide and they provide very good value for money.
Today France is celebrating the 'Beaujolais Nouveau' as each third Thursday of November. After the terrible November 13th night this event is even more than usual the symbol for the French 'art de vivre', brotherhood and culture. Enjoy it, either at any of my three favourite wine shops, where free tasting are taking place today, or in many bars or restaurants in Paris, as well as in other cities in France, first and foremost Lyon and Beaujeu in the Rhône. Cheers!
Christine Bokobza – Good Morning Paris B&B – www.goodmorningparis.fr

Practical information: Legrand Filles et Fils – 1 rue de la Banque 75002 Paris – Lavinia – 3 boulevard de la Madeleine 75001 Paris – La Cave du Bon Marché – 38 rue de Sèvres 75007 Paris