Easter has arrived in all chocolate shops in Paris! I have selected for you the best places as they offer in the same time outstanding Easter shop windows and beautiful and delicious Easter chocolates. Here is my top five.
The most artistic: Patrick Roger
Patrick Roger is an artist who likes to carve raw chocolate and creates amazing chocolate sculptures. There is little to choose between looking at his shop windows and visiting an exhibition. This year hens and eggs in all their forms celebrate Easter in Patrick Roger's chocolate shops whereas big carved cows watch over them. Prices are rather expensive : 55€ for an egg box (6 chocolate real eggs) – about 11€ for 100g chocolates. But the taste of Patrick Roger's chocolate works is as remarkable as their beauty. Choose among his six shops in Paris!
The most eccentric: Joséphine Vannier
Joséphine Vannier is probably one of the most creative chocolate maker in Paris. All year long she offers new chocolate sculptures, all made with dark chocolate 72% pure cocoa butter without preservatives: musical instruments, shoes, African or Venitian masks, Eiffel Towers, … This year for Easter Dali, Magritte and Miro are in the place of honour, with surrealist and humorous creations! But you can also choose among the most classical chocolate animals: hens, rabbits, cats, elephants, horses, pigs, … at quite reasonable prices: under 10€ for the smallests. There is only one shop in Paris, in the Marais area: 4 rue du Pas de la Mule, 75003.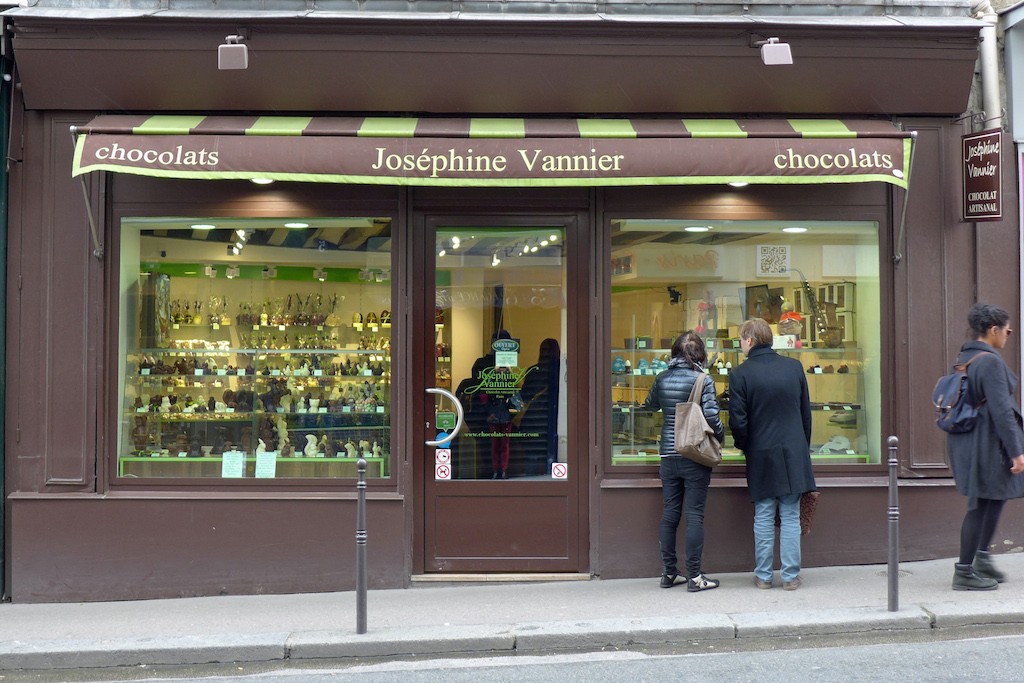 The most refined: Jacques Genin
Jacques Genin is in the same time a chef, a head pastry chef and one of the best chocolate makers in Paris. In his shop located on rue de Turenne in the Marais one can also see and visit his laboratory. I used to know and enjoy Jacques Genin's pastries before discovering his chocolates: his 'millefeuille', his 'Paris Brest', his 'Saint Honoré' are the best that I have ever tasted. They are not displayed in his chocolate shops any longer but you can still order them. As far as Easter and chocolates are concerned, Jacques Genin's creations are artistic and colourful and its Easter chocolate baby bears are really cute!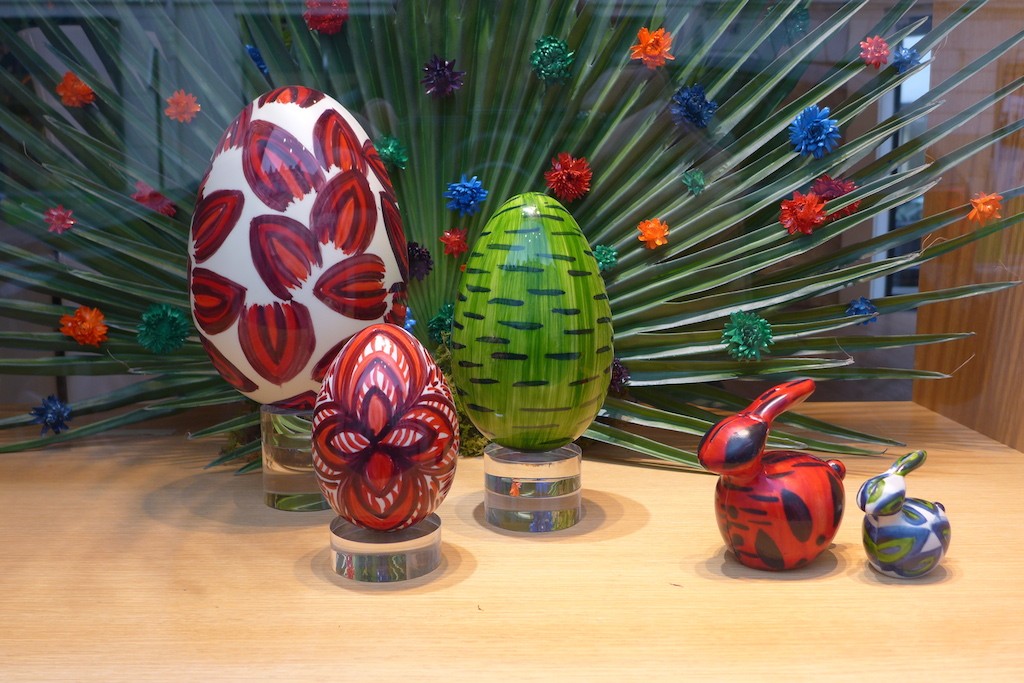 The most childish: Michel Cluizel
Michel Cluizel represents the third generation of chocolate makers in his family. The family comes from Damville in Normandy, where they have also opened a museum that one can visit, the Chocolatrium. All the chocolates made by Michel Cluizel are very high-quality products and offer subtle flavours and refined tastes. Among the Easter creations of this year the 'Picorines' and the 'Rigolos' are really made to charm kids. And the adults will love the amazing 'Lapin Origami', a beautiful dark and milk chocolate rabbit looking like a folding and holding a pearly white egg in its legs. Choose among the six shops in Paris to find them!
The most affordable: Nicolsen
Nicolsen is a more confidential and less famous chocolate maker than the four above. His creations are also more traditional and less artistic. But as far as chocolate is concerned they have a remarkable taste as they are made with dark chocolate 100% pure cocoa butter. There is only one shop in Paris, located in the Latin Quarter on 112 rue Mouffetard, 75005. Their Easter window highlights the eggs and I love it. You can yield to temptation as prices are really reasonable : from 10 to 20€ for a cat, a turtle or a squirrel, depending on its size!
Happy Easter !
Christine Bokobza – Good Morning Paris B&B – www.goodmorningparis.fr