Paris counts more flower shops than days in the year and the flower arranging has more and more success all over the country. As you may know, on the 1st of May it is a tradition in France to offer a sprig of lily of the valley as a lucky charm. And if by chance your sprig counts 13 bells, the luck will be even more outstanding! I take advantage of this time of year to introduce you to five of my favourite flower shops in Paris, all located in the very heart of the city.
The most intimist: odorantes
Odorantes is a tiny flower shop located in a quiet residential street in 6th arrondissement of Paris. In the shop window stuffed colourful parrots are hidden in the flowers. Inside a small selection of roses, peonies and lilacs smell incredibly good. I have been lost in admiration for roses with golden and pinkish shades called the 'Golden Moutarde': no smell, but really an exceptional refined colour! (5,50€ each)
Odorantes – 9 rue Madame 75006 Paris – 11am till 7.30pm
the most colourful: adriane m.
Adriane M. offers a wide variety of beautiful flowers whose bright colours are emphasized by the black interior of the shop. I love this flower shop for its smiling welcome, its beautiful decor and for the quality and the freshness of the flowers one can buy there at moderate prices: 19€ for five coral pink peonies, 16€ the bunch of sweet peas, … Do not hesitate!
Adriane M. – 4 rue Saint Dominique 75007 Paris – 9am till 8pm
the most sumptuous: moulié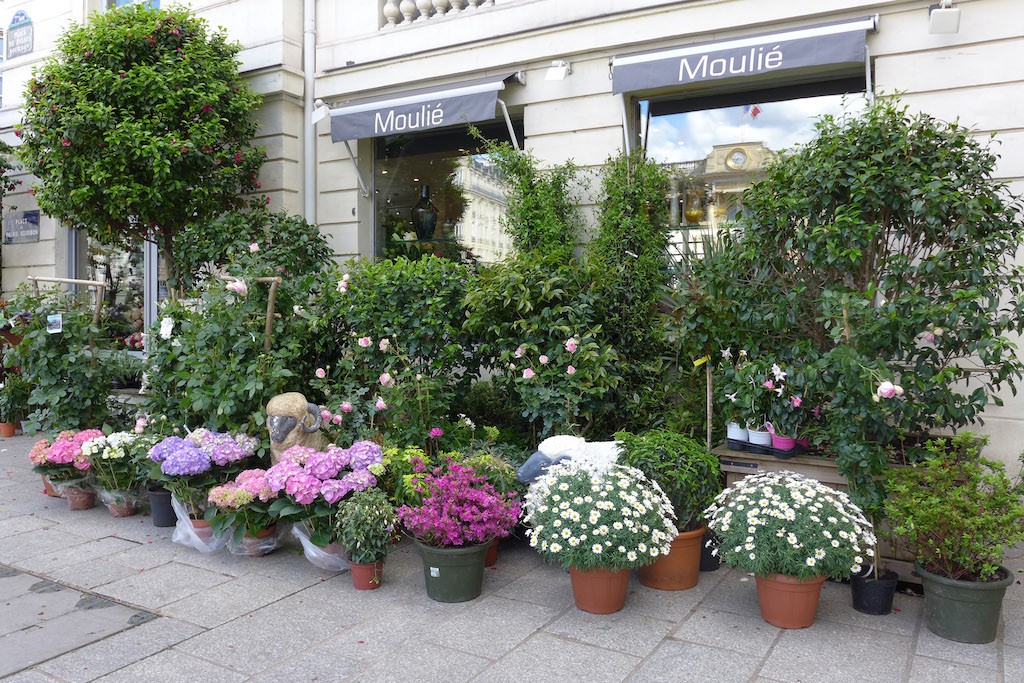 Moulié has THE most prestigious location one can imagine in Paris: on the Place du Palais Bourbon, in front of the Assemblée Nationale (the French Parliament). Its display is like a show with statues of animals standing proudly in the middle of the flowers. Roses, roses, roses,… in all sorts of colours and for every budget. But not only: peonies, hydrangeas,… and many trees: rosebushes, lemon trees,… A large choice, including orchids as well with a dedicated shop a few meters further in the rue de Bourgogne.
Moulié – 8 place du Palais Bourbon 75007 Paris – 8am till 8pm (7.30pm on Saturdays)
the most artistic: stéphane chapelle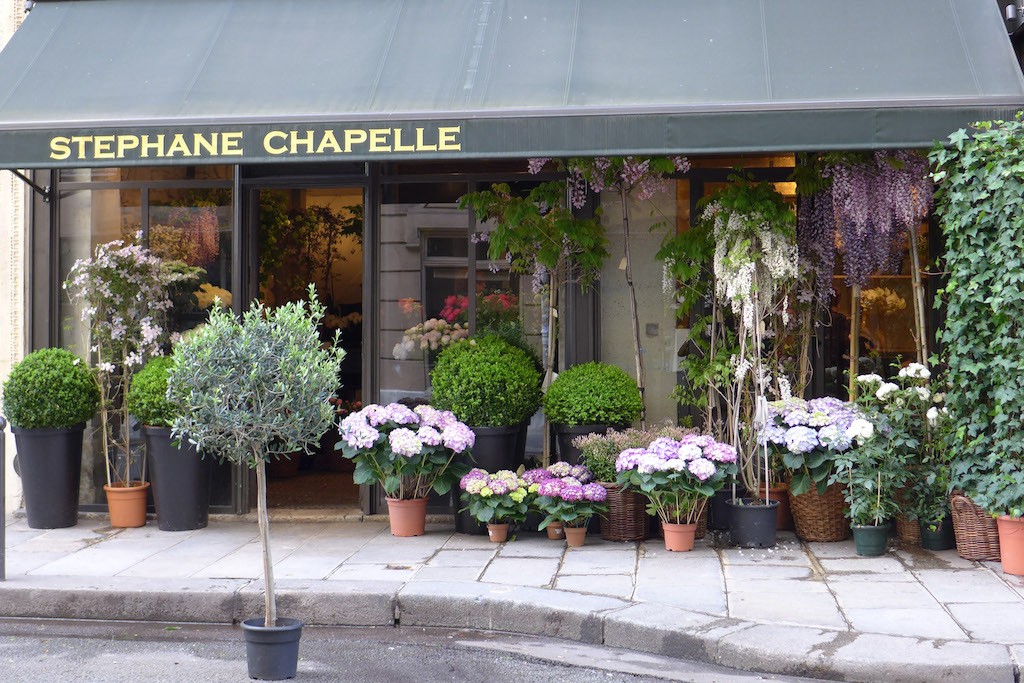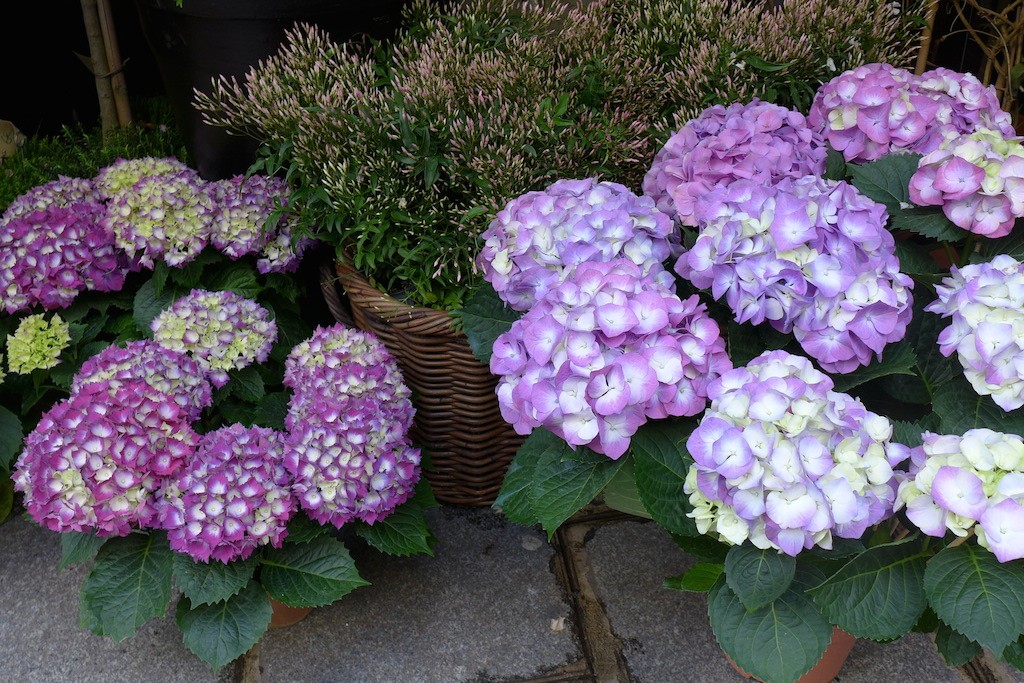 Stéphane Chapelle is an artist who likes to talk about flowers and about his bunches. By entering his flower shop one is struck by its sobriety and by the small variety of flowers displayed… but also by the outstanding beauty of the few flowers offered. At this time of year one can choose among white roses, coral pink, white or pinkish peonies, blue hydrangeas, white or mauve lilacs. Stéphane Chapelle's bunches are harmonious and generous!
Stéphane Chapelle – 29 rue de Richelieu 75001 Paris – 10am till 8pm
the most charming: flower.fr
Flower.fr is the only florist in my selection to have two different shops in Paris, both in central and prestigious locations: one in the Rue de Babylone in 7th arrondissement and the other one in the Rue des Saints Pères in 6th arrondissement. Both offer magnificent flowers which have been selected with much care but may be a little expensive: beautiful roses, sumptuous coral pink peonies, bright blue hydrangeas, … The atmosphere and the welcome differ from one shop to the other and I prefer by far the one in the Rue des Saints Pères: tiny, crowded with flowers and so charming… and open on Sundays! One can also try the e-shop.
Flower.fr – 14 rue des Saints Pères 75006 Paris – 10am till 9pm (11am till 8pm on Sundays) or 39 rue de Babylone 75007 Paris – 10am till 8pm
Let's say it with flowers!
Christine Bokobza – Good Morning Paris B&B – www.goodmorningparis.fr